31st Oct
Important information for patients currently on hospital waiting lists
The NHS has been working hard to address the backlogs built up during the COVID pandemic. As part of these plans, the NHS will be proactively contacting patients who have been waiting a long time for NHS funded treatment to remind them of their right to request to move to an alternative hospital where they may be seen quicker.
From Tuesday 31st October new digital portal called the Patient Initiated Digital Mutual Aid System (PIDMAS) will be introduced. Patients who have been waiting 40 weeks or more can use this portal to request an alternative choice of hospital.
Any patient who is eligible will receive either a SMS text message or a letter from their current hospital explaining how to request to choose a different hospital.
Please do not contact the practice regarding this process as we have no information regarding individual patients.
The hospital will contact you if you are eligible. Please do not contact them either.
Further information about alternative choice is available on hospital websites.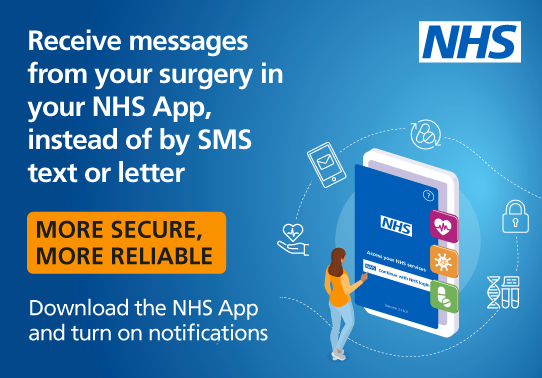 9th Oct
NHS APP
Did you know that you can use the NHS App for more than viewing your medical record?
You can send an online consultation to the practice using the 'Ask your GP for advice' option (during normal operating times of our triage service).
You can request your repeat medication quickly and easily.
If you switch on notifications you can receive letters and messages from the practice direct to the app rather than via SMS or email.
Why not download it and see?
31st Aug
Covid Vaccine Autumn 2023 - UPDATED 13.11
29th Aug
Shingles Vaccine Changes
From September 1st patients will be eligible for shingles vaccine as well as a pneumonia vaccine on their 65th birthday.
The vaccine will only be offered to patients who have their 65th birthday after September 1st 2023, if you are already 65 you will become eligible when you turn 70. This is national guidance and our team cannot give the vacccine outside these rules.
In addition patients age 50+ who are severely immunocompromised will become eligible for the vaccine.
https://www.nhs.uk/conditions/vaccinations/shingles-vaccination/
For these groups the vaccine will be two doses of Shingrix vaccine.
We will contact you to invite you to book if you are eligible under these new rules.
Thank you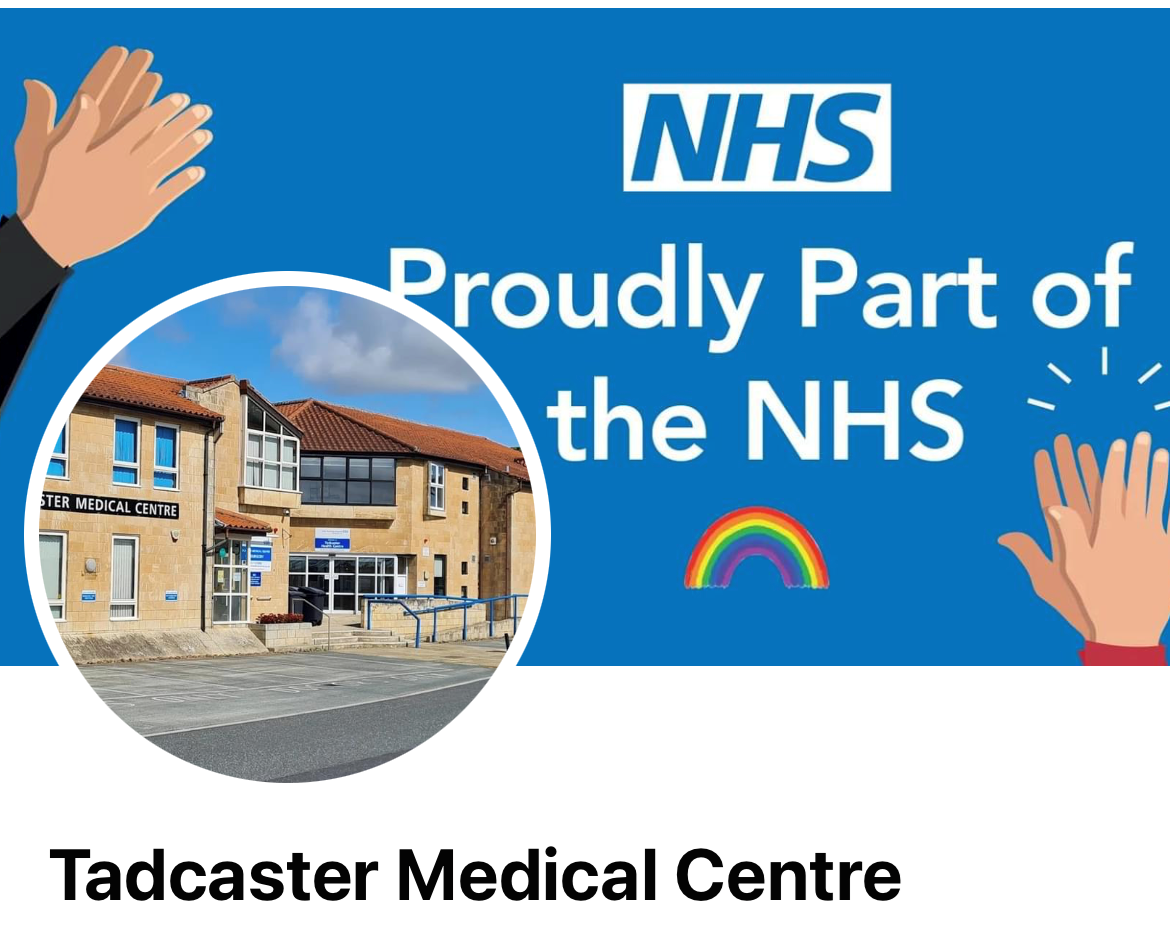 24th Apr
Facebook
Why not follow our new Facebook page to keep up to date with what is going on at the practice?
3rd Apr
HRT Prepayment Certificate - NEW 1.4.2023
23rd Mar
Thank you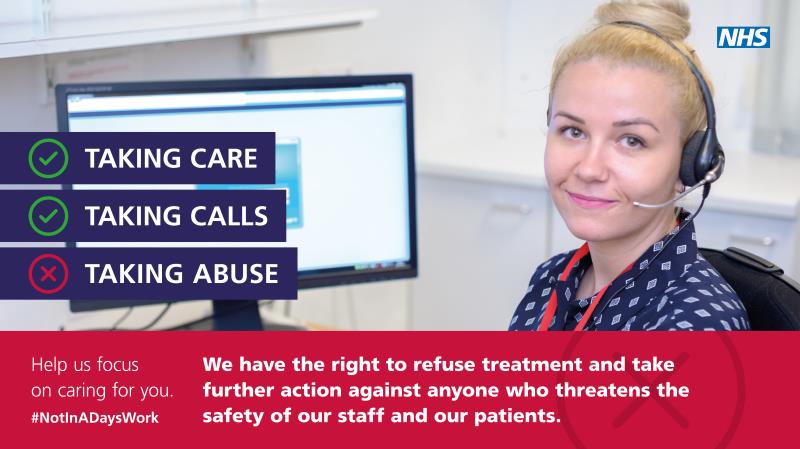 9th Mar
First Contact Physiotherapist
We are delighted that we have a First Contact Physiotherapist starting as part of our PCN team next week.
Rachel will be seeing patients in Tadcaster on a Monday and Tuesday each week.
She cannot treat anyone under 16, pregnant patients or anyone who is acutely unwell.
26th Sep 2022
NHS Talking Therapies
Talking therapies can help you with feelings of stress, low mood and worry.
Your local IAPT team offers talking therapies, they are there to help you lift your mood.
We encourage anyone who is finding lifes daily demands difficult to reach out, When you get in touch there may be a waiting list. The IAPT team will let you know if this is the case and what to expect.
You can find out more and refer yourself via the IAPT website Home - York and Selby IAPT .
23rd Jun 2022
Polio
You may have seen on the news that there are concerns that polio may be spreading in the community in London for the first time in decades.
Locally vaccine uptake in children is very good which is reassuring for us all.
The normal vaccine course is three doses at 8, 12 and 16 weeks then a dose in the pre school boosters at 3.5-4 and in the teenage boosters at school in year 9. A course of five vaccines gives good long term protection.
If you are concerned that you have not had five doses please contact the reception team at the surgery or check via your online records access (if you have it).
If your child has missed any of the doses please book with the nurse, the polio vaccine is given as part of a vaccine giving protection against multiple diseases, the link below may be useful.
https://www.nhs.uk/conditions/vaccinations/nhs-vaccinations-and-when-to-have-them/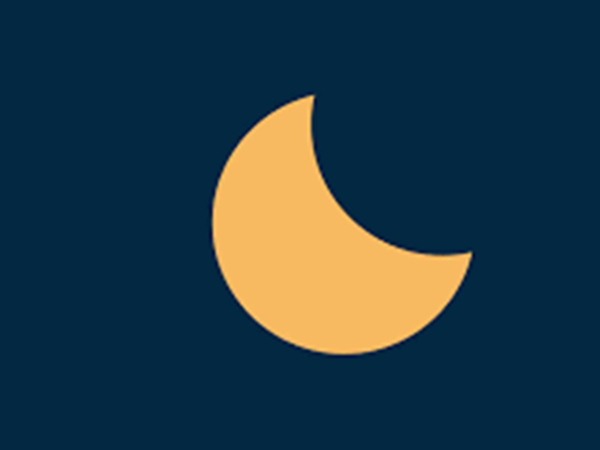 7th Jun 2022
Sleepstation (an online insomnia service)
24th Mar 2022
New Adult (19+) Mental Health Support Service
Qwell is a free, safe and anonymous mental health and wellbeing service. There are no waiting lists, no referrals and no thresholds required to access the service, which is accredited by the British Association for Counselling and Psychotherapy (BACP) and delivered by Kooth plc, the UK's largest digital mental health provider.

The service encourages peer-to-peer support via moderated discussion forums and self-help through reading or submitting content. However, Qwell also gives people the opportunity to access online counselling from qualified counsellors who are available from noon to 10pm every weekday and from 6pm to 10pm at weekends. People can drop in for one-to-one instant text-based chats or book a session in advance.
www.qwell.io
24th Mar 2022
Online Carers Assessment
https://www.northyorks.gov.uk/carer-assessment
This is for any carer and will help you think about your role, how it impacts your life and what support you may need.
You complete the assessment online and NYCC will be in touch if they need more information and to discuss support available.
24th Mar 2022
Health Walks
https://www.walkingforhealth.org.uk/
Why not join the Tadcaster walk on the 4th Friday of the month?
This scheme is national and is designed to encourage people to start being active, the walks are short and over easy terrain.
Start point for the Tadcaster walk is the bus station at 10 am, the route is approximately two kilometers. Please arrive 15 minutes early to register.
The website does not have the Tadcaster walk on the calendar but we have leaflets available from reception if you are interested.
24th Mar 2022
Covid Certification - UPDATED 13.4.23
The NHS App shows Covid-19 vaccine status if you received your vaccine in England. You can download the app from whichever app store you use. You will need to prove your identity to register by sending a photo of your current driving licence, passport or other official photo identification.
If you cannot use the App you can call 119 and ask for a letter to be posted to you. You can request this letter 5 days or more after your second dose. It will take around 5 days for the letter to be sent to you. Please be aware that vaccine requirements for travel vary and you may need to have had a booster to be considered fully vaccinated for arrival abroad.
https://www.gov.uk/guidance/demonstrating-your-covid-19-vaccination-status-when-travelling-abroad
Your GP Surgery cannot issue letters proving Covid-19 vaccination status.
If your vaccine record in the app is not complete and you had your vaccine in England please call the VDRS (Vaccine Data Resolution Service) on 0300 561 0017. If you had your vaccine at the Health Centre we can update your records but we cannot add vaccines given elsewhere.
If you have had your vaccine outside of England (this includes Scotland and Wales) the process to have them added is detailed on the website below. There is no longer any need to attend a site with evidence.
Tell the NHS about COVID-19 vaccinations you've had outside England - NHS (www.nhs.uk)
Thank you
24th Mar 2022
New Roles In Our Team - UPDATED MAY 2022
Mental Health Practitioner
We now have access to a number of appointments each weekday with a Mental Health Practitioner called Tracey Webb linked to our PCN. We understand that this may not be a familiar job to you and you may wonder why you are offered an appointment with her rather than a GP. The link below explains the role and how it can help you.
www.valeofyorkccg.nhs.uk/mentalhealthpractitioner
There is also a short video from Ben who works in Selby Town: https://youtu.be/2yzkhLZ-828
Health & Wellbeing Coach
Beatrice and Sarah are our Health and Wellbeing Coaches (Beatrice features in the video on the website below).
You may be offered a referral to them when you are seen in the surgery.
www.valeofyorkccg.nhs.uk/healthandwellbeingcoaches
NEW GROUP HEALTH COACHING SESSIONS
In a small group setting these groups cover topics including Diabetes Prevention, Eating Well, Hypertension and Menopause. Click on the link for dates and times.
24th Mar 2022
My Planned Care
This site has been set up by NHS England to allow patients and their families to see average wait times by department if they have been referred for a hospital outpatient appointment.
The hospital teams are working with significant backlogs and the website will soon have information about managing your symptoms whilst waiting to be seen.
https://www.myplannedcare.nhs.uk/
If you contact the hospital you have been referred to and ask for an earlier appointment they may ask for a letter from your GP to expedite the process. There is no guarantee that a letter will mean an earlier appointment but if you are asked for one please contact the surgery and give us details of how your condition has changed since you were referred. Without this information no letter can be written.
---